What is your favorite snack and/or drink when writing?
I love coffee! Iced,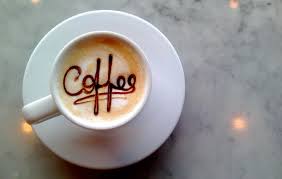 hot, lattes, you name it! I will drink an entire pot while I am writing.
I like to snack on something pretty clean so I don't smudge my pages, croissants seem to be a common one!
What do you listen to when writing?
I don't listen to anything as it makes it hard for me to concentrate, unless I am sitting outside. If I am outside, I love listening to the wind and birds chirping!
Do you have any rituals when you settle down to write?
I love to have a new journal for each new writing piece. I have one set aside specifically for haikus and short poems.
Do you outline when you write or wing it?
I wing it. I like to get all of my ideas down on paper, then go back and work through them more thoroughly and add detail.  I feel like if I just put pen to paper and let go that I can get all my thoughts down before I forget what I wanted to happen.
Do you walk about works-in-progress or keep mum?
I keep mum about all of my writing pieces. Participating in the writing project prompted me to start to share and receive more and more feedback on my pieces.
Do you prefer writing first drafts or editing?
Definitely first drafts! I love getting the creative part down, editing is more of an arduous process!
What was your favorite book as a child? As a teen? As an adult?
I loved the Baby-Sitter's Club as a young reader, then moved into Christopher Pike and R.L. Stine (especially his Fear Street series) in middle school and early high school years. In high school I read romance, but now look for thrillers, mysteries, and suspense novels. James Patterson is my absolute favorite author.
What is your favorite genre to read?
Suspense/Thriller
What is your favorite genre to write?
Poetry and Horror, a weird combination I know!
Who is the author you most want to be compared to and why?
R.L. Stine as I love writing mystery/horror stories that are creepy, but have relatable characters.
Tell us about your writing journey. When did it begin?
I started writing a couple of short books when I was still in high school, then ran out of time with activities and going to college. In college, one of my dance instructors sparked my interest in haikus as we wrote haikus, then choreographed to the words and rhythms of our poetry.
You've been stranded on a deserted island, so you finally have time to read, and this island happens to have a library! What's the first

book you crack open?
The Walking Dead Compendiums

For one day, time travel is a reality and you have the opportunity to visit any famous deceased writer or artist you want. Who do you pick?
Edgar Allan Poe
You magically find a $100 bill in your box of cereal. In what frivolous way would you spend it?
I would buy toys for my dogs!
What is your favorite quote?

"Never regret something that once made you smile."– Amber Deckers
What do you enjoy doing when not writing or teaching?
Dancing, dog training, finding and watching new and interesting tv/movie series, acting, painting, reading, the list goes on forever!