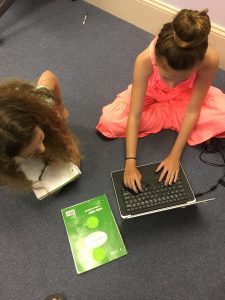 Due to COVID-19 and the concern for our young writers, Project Write will continue to offer virtual workshops during the school year. Young writers across the globe are welcome to join any workshop!
Second Saturdays Series
Genre workshops taught by our Teacher Consultants and published authors on the second Saturday of each month. Young writers in grades 4-12 may register for individual workshops or the series. For more information, visit the Second Saturdays Series page.
Advanced Young Writers' Workshop
For young writers who are serious about developing their writing, this advanced workshop is for small groups only to provide feedback on works-in-progress. Writers will meet with our Teacher Consultants and the same group of peers two Tuesdays each month. The fall workshops are full, but please email us to get on the waiting list (and so we can be sure to plan for your participation!).
Summer Young Writers' Workshop, June 20-24, 2022 (in-person and online)
Our week-long workshop invites writers to develop at least one piece for publication in The Bloom, our print anthology, while learning from our Teacher Consultants and guest authors. If you register before December 31, 2021, you can lock in the low-rate of $300 for the week (a $100 discount).
College and Scholarship Application Essay Workshop
Offered each fall. If you don't want to miss our next workshop, please email us at projectwriteinc@gmail.com.
Young Screenwriters' Conference, October 2, 2021 (in-person and virtual options.)
Held in conjunction with Shenandoah University's film studies department, the Young Screenwriters' Conference connects rising screenwriters and filmmakers with professionals in the industry! Previous professional screenwriters have included comics legend Joe Kelly, indie animation director Dash Shaw, and screenwriter and director Rebekah McKendry.
Young writers who've attended previous workshops or parents who are registering more than one young writer are encouraged to contact us for discounts.
Scholarships are available for young writers with financial need because of our partnerships and grants from the Claude Moore Foundation, Nora Roberts Foundation, and Marion Park Lewis Foundation. Please visit our scholarship page or email us for more information.