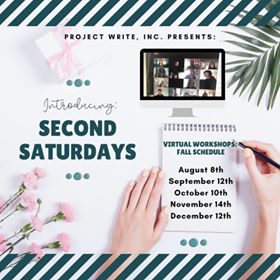 Project Write, Inc., is pleased to offer this series of writing workshops for students in grades 4-7 and 8-12 on a monthly basis. Each virtual workshop will consist of several small writing lessons, time to write, and time to share writing.
Each workshop will cost $30.
Discounts
All five can be purchased for $100 if paid for by August 6.

Four can be purchased for $100 if paid for by September 10.

The final three can be purchased for $80 if paid for by October.
Fall Second Saturdays Series; Spring TO BE ANNOUNCED
Grades 4-7 will meet 9-11 a.m.; Grades 8-12 will meet 12-2 p.m.*
*Please note that if enrollment is less than five young writers for either session, then the sessions will be combined into the morning timeframe.
August 8 – Workshop 1: Historical Fiction with Chris Humenik
Historical fiction is a mainstay genre that prominently features in many books, video games, movies, and shows. In this workshop, writers are welcome to bring their own historical event (please bring at least one credibly sourced article about the event) or borrow from my list of historical events to tweak. We'll be working through macro and micro changes to our historical events to see how we can change the outcomes of history and forge some truly epic writing in the process. An emphasis will be placed upon completing a short work that can lead into something larger (ie. instead of changing the entire Peloponnesian War in a session, writers may be asked to focus on the day that Sparta first invaded, etc.). NOTE: A version of this workshop was offered during our summer workshop, but this will further develop those lessons for writers who attended for the summer workshop.
September 12 – Workshop 2: Dream Journaling with Star Friend
Whether you dream in color or struggle to remember your dreams, this workshop will help you develop an approach to dream journaling. You'll also learn what the experts agree on when it comes to certain images (symbols) in our dreams. This can be a useful life skill or can be transferred to developing characters or plot lines in fiction.
October 10 – Workshop 3: Horror Writing with Melanie Catron
With plenty of time to prepare for Halloween, we will work on how to identify what scares our readers by considering what scares us; how to decide which type of horror story works best for our writing: horror and terror or violence and gore; and ways to build the vital element of setting. We will also work on some methods to build and maintain suspense in our stories. Grades 4-7 will focus on setting while grades 8-12 will focus on character development. 
November 14 – Workshop 4: Memoir with Moriah Rush
An Enlightening Moment – In this session, we'll be shedding light on the moments in our life where we've really learned something. Can you remember the first time that you learned a stove was hot? What about the time you learned how to be a class clown? Or deal with loss? Or question the unknown? We'll be breathing life into those moments that taught us something important. We'll also spend a little time looking at a few mentor texts from successful authors who have captured these moments.
December 12 – Workshop 5: The Unreliable Narrator with Robin Frost 
Bring a story you've been working on and let's play with point of view. Ever heard of the unreliable narrator? This is a chance to experiment with this difficult, yet interesting, approach to the first person narrator. 
*No refunds for missed workshops. When purchased as part of the series, you may transfer a workshop to another young writer in the same age group if you contact the director, Rhonda Lancaster, by the Thursday before the Saturday you will need to miss. Individual workshops can be moved to another date if you let us know ahead of time. Should an instructor be unable to meet, another Project Write instructor will lead the same genre or topic.
Other Workshops:
Advanced Young Writers' Workshop from September to December; New sessions starting in January 2021
College and Scholarship Application Essay Workshop, September 19
Young Screenwriters' Conference, Shenandoah University, Winchester, October 17, 2020 (virtual)
Summer 2021, June 21-25, Shenandoah University Winchester, Va. (virtual or online)