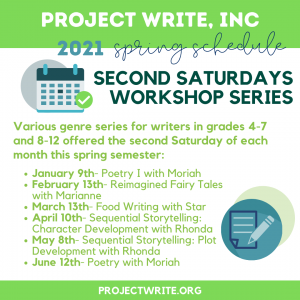 Project Write, Inc., is pleased to offer this series of writing workshops for students in grades 4-7 and 8-12 on a monthly basis. Each virtual workshop will consist of several small writing lessons, time to write, and time to share writing. Since this series is all-virtual, you can join us from your corner of the globe, wherever you might be on the Second Saturday! Please share with your friends and family, near and far!
Each workshop will cost $30.
Discounts
All six can be purchased for $120 if paid for by January 8. BEST DEAL!
Five* can be purchased for $125 if paid for by February 12. A GREAT DEAL!
Four* can be purchased for $100 if paid for by March 13.
Three workshops available for $90.
Two workshops are available for $60.
Teachers may attend for free with the paid registration of a student. Be inspired to write for yourself OR gain a new lesson to share with your students!
Spring Second Saturdays Series
Grades 4-7 and 8-12 will meet 9-11 a.m.
January 9: Poetry 1 with Moriah
Do you enjoy writing but find it difficult to commit to writing a longer piece? Perhaps poetry will be your jam! There are so many different forms of poetry to explore, and there is something for every writer! Poetry is more than rhyming and rules, they are fun and silly and allow writers to express themselves in a unique way. In this workshop, writers will learn about at least TEN different types of poetry! Writers will get to try out as many different styles of poetry as they want, and then focus on honing their skills on the one(s) they like the most!
February 13: Reimagined Fairy Tales with Marianne Teacher Consultant Bio & Speed Round
Young writers will be able to choose from a specific fairy tale and using a mentor text understand how to reimagine the story through a different perspective. The writers will have a chance to write their new version through the eyes of another character in the story.
March 13: Food Writing with Star Teacher Consultant Bio & Speed Round TBA
Learn to write reviews and stories about your favorite foods and restaurants.
April 10: Sequential Storytelling: Character Development with Rhonda Teacher Consultant Bio & Speed Round
Curious about the writer's role in comic book creation? Find out tips for writing in this visual medium while developing unique characters. You don't need to consider yourself an artist for this lesson in storytelling.
May 8: Sequential Storytelling: Plot Development with Rhonda Teacher Consultant Bio & Speed Round
Join us for more tips on visual storytelling while drafting an exciting plot for your characters. You don't need to attend the April workshop and you don't need any artistic skill (although you will do some sketching!).
June 12: Poetry with Moriah Teacher Consultant Bio & Speed Round
Poetry allows a writer to flex creative muscles in short spurts, which leads to stronger writing in all genres, so we are offering a second poetry workshop this series. Join us as we explore more poetic styles and skills. NOTE: You don't have to attend the January workshop to launch into this one in June.
*No refunds for missed workshops. When purchased as part of the series, you may transfer a workshop to another young writer if you contact the director, Rhonda Lancaster, by the Thursday before the Saturday you will need to miss. Individual workshops can be moved to another date if you let us know ahead of time. Should an instructor be unable to meet, another Project Write instructor will lead the same genre or topic.
Other Workshops:
Advanced Young Writers' Workshop January-May 2021 (virtual)
Summer 2021, June 28-July 2, Shenandoah University Winchester, Va. (virtual)
Young Screenwriters' Conference, Shenandoah University, Winchester, October TBA, 2021
College and Scholarship Application Essay Workshop, Fall 2021 TBA