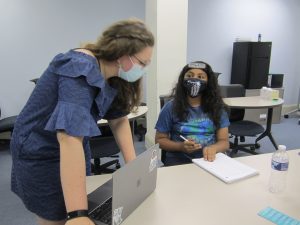 Project Write Weekend Workshops return to in-person* on Saturday, Feb. 26, 10 a.m.-2 p.m. at Fauquier High School.
Young writers in grades 4-12 are invited to participate.
Genre Sessions include: Crime Fiction, Fantasy, Historical Fiction, Horror, Satire, and Science Fiction
Click here for instructor bios and session descriptions!
Students wanting to wow admissions and scholarship committees will want to attend the College and Scholarship Application Essay Workshop with author Mary Tedrow on the same day.
Click here for the session description!
Parents are invited to attend the Writing with your Writer Workshop with author Mary Tedrow. Complementary for parents of Weekend Workshop young writers!
Click here for the session description!
To Register, click here!
Costs: $55 if registration is received by Feb. 18 ($65 for late registration)
*All masking and social distancing policies in place by recommendation of the CDC and required by the Fauquier County Public Schools as of Feb. 26 will be enforced.
Workshop Schedule:
Registration opens at 9:30 a.m.
10:00 – 10:05 am Welcome Library
10:05 – 11:10 am Genre Session #1 –
11:10 am-12:15 pm Genre Session #2 –
12:15-12:35 pm LUNCH Library
12:40 – 1:30 pm Writing Workshop (by grade level)
1:35-2:00 pm Large Group Share Library
Other Workshops:
Second Saturdays Series from September 2021 through June 2022 (virtual)
Weekend Workshops: Fauquier & Loudoun (in-person)
Advanced Young Writers' Workshop (virtual)
Young Screenwriters' Conference, Shenandoah University, Winchester, TBA, 2022 (hybrid: in-person or online)
Summer 2022, June 24-June 28, Shenandoah University Winchester, Va. (hybrid: in-person or online)