Dr. Mary Tedrow, Project Write Treasurer
Mary Tedrow's book, Write, Think, Learn: Tapping the Power of Daily Student Writing Across the Content Areas, is now available in bookstores and online. Tedrow was a founder of PWI and feels that "Project Write extends the work of the classroom into the community to help build confident, expressive writers from an early age."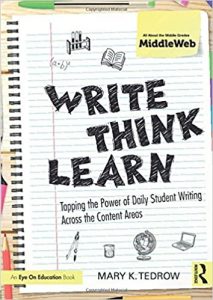 Shenandoah Valley Writing Project Director Tedrow retired as the Porterfield Endowed English Chair at John Handley High School with over 25 years of classroom teaching experience in public schools in Virginia. She was the 2001 District Teacher of the Year for Frederick County. Tedrow served on the National Education Association Commission on Effective Teaching and Teachers in 2010 to reimagine the teaching profession. Tedrow also served as a Co-Director of the Northern Virginia Writing Project and taught at George Mason University from 1999-2014. She is currently a Lecturer in the Masters in Teaching Writing program at Johns Hopkins University.
Since 1982, Tedrow has also worked freelance in the private sector in advertising, radio, and various print media including authoring a national, monthly newsletter for parents. She has been published in numerous outlets including Teacher Magazine and Education Week. 
College & Scholarship Application Essay Workshop (The workshop will be both morning sessions & then the students will join the afternoon writing group for grades 10-12 to receive feedback from peers and a Project Write Teacher Consultant on early drafts.)
This session covers the demands of the college essay, what admissions counselors look for, and how to locate life experiences which reveal your true self.  Considerable time will be provided for drafting and revising.  Students will leave with a down draft suitable for revising and submitting.
Schedule
Registration opens at 9:30 a.m.
10:00 – 10:05 am Welcome Library
10:05 a.m. – 12:15 p.m. Workshop (with scheduled break)
12:15-12:35 pm LUNCH Library
12:40 – 1:30 pm Writing Workshop (by grade level)
1:35-2:00 pm Large Group Share Library
Other Workshops:
Second Saturdays Series from September 2021 through June 2022 (virtual)
Weekend Workshops: Fauquier & Loudoun (in-person)
Advanced Young Writers' Workshop (virtual)
Young Screenwriters' Conference, Shenandoah University, Winchester, TBA, 2022 (hybrid: in-person or online)
Summer 2022, June 24-June 28, Shenandoah University Winchester, Va. (hybrid: in-person or online)