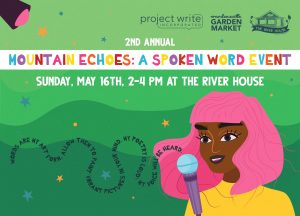 Mountain Echoes: A Spoken Word Event brought to you by The River House, Wardensville Garden Market, and Project Write, Inc.
CONGRATULATIONS to the 2021 winners, including our own young writer, Kennedy Smith, for taking first place in the second Mountain Echoes Spoken Word Event! See her performance of her original poem, "Why don't you think about someone else for a change?" and the other competitors on our YouTube Playlist! Other winners include Emma Kynaston with "Making My Life Mine," and Marleigh Blackwell with "Mental Illness."
CONGRATULATIONS to the 2020 winners: First Place: Emily Yates (original poem); Second Place: Hsu Lwin; Third Place: Savannah Keller. View the first competition via the Facebook Live Stream.
Project Write is planning future events co-sponsoring Mountain Echoes: A Spoken Word Event for students in grades 8-12. This event is in collaboration with Wardensville Garden Market in Wardensville, WV, and The River House in Capon Bridge, WV. If you are in the area, please stop by our co-sponsors!
Students will prepare an ORIGINAL poem and PERFORM it LIVE at The River House on Sunday, May 16, 2021. The event will be open to an audience and held outdoors from 2-4 p.m. with a youth open mic to follow.
Participants are invited to a series of FOUR workshops to prepare for competition on Tuesdays and Thursdays, May 4 & 6, and May 11 & 13, from 6:30-8 p.m. via Zoom. Participation in the workshops is not mandatory to compete, but is highly recommended. The full workshop agenda will be emailed to participants by Saturday, May 1. To learn more about the instructors, click here.
The workshop agenda includes:
Session 1, May 4: Writing for the Spoken Word (bring a poem you are working on OR use our prompts to start or revise one)
Session 2, May 6: Tips for Performing the Spoken Word (bring a poem you are working on for workshop feedback in light of your performance)
Sessions 3 & 4, May 11 & 14: To Be Determined by number and skill level of participants, but will consist of performance lessons, practice time, and opportunity to give and receive feedback from other participants.
NOTE: Participants will be required to provide a copy of their original poem to event organizers no later than May 13.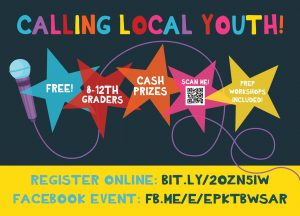 We plan to print a collection of poems performed at the 2021 event. Copies will be provided to participants free. Additional copies will be available for purchase via print-on-demand.
Cash Prizes will be awarded to the FIRST ($75), SECOND ($50), and THIRD ($25) Place winners. All participants will receive gift bags of items from Project Write, Inc., Wardensville Garden Market, and The River House.
A parent or legal guardian should complete the registration for students under the age of 18. 
Read our PRESS RELEASE to learn more about this partnership and the event.