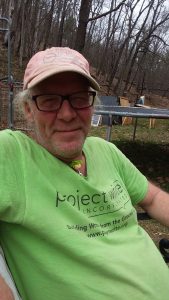 John Berry
John Berry is a native Virginian living in the beautiful Shenandoah Valley. A self-taught and lifelong carpenter and woodworker, John is moving more toward teaching with his new endeavor, Show Me How. John's poetry has been widely published including River and South and the Texas reviews. His third book of poetry, The Lawnmower Poems, was released in late 2019.
John also serves on the River House board of directors. Through TRH he has facilitated several arts projects including Passages to be opened for exhibit by summer 2021, and an ongoing poetry open mic every third Sunday. Always writing, and often wondering if another book is to be, John is currently gathering inspiration from a den of foxes right next to his home.
"That little part of you that doesn't want to go on stage is absolutely essential. Push it aside and your words will be hollow, powerless. Embrace it and your true voice will begin to emerge."

~John Berry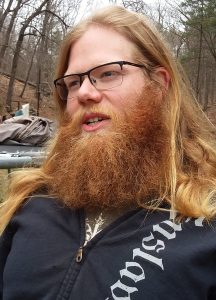 Steve Kirk
Editor at Oak Journal, writer at Fifth Estate, and former slam poetry performer and current guitar instructor at The Cat and the Fiddle in Capon Bridge. Steve's writing currently focuses on analysis of current events and history in lyrical and analytical styles. As a larger artistic approach Steve's live shows typically incorporate experimental solo guitar as well as visual displays and detailed sample tracks.
"Your written poetry is not delivered to a nameless, faceless room of academics. The spoken word is with those present in the room. They are part of your performance." ~Steve Kirk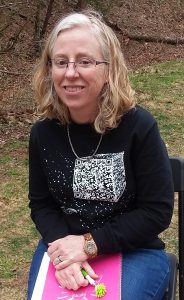 Rhonda Lancaster
Project Write, Inc., Board President & Director of Youth Programs
A former journalist and public relations manager, Rhonda Lancaster has taught English and creative writing at James Wood High School in Winchester, Va., for more than a decade. She has worked on student publications since her first piece, a slasher-horror story, was published in her middle school creative arts publication. A certified Teacher Consultant for the National Writing Project, she earned her MA in creative writing and literature from Fairleigh Dickinson University. She is a member WV Writers Inc., and a board member of the Shenandoah Valley Writing Project. Her flash memoir, "Shell Shocked," was published in the Anthology of Appalachian Writers Volume VI, and her poem, "Losing Sight," was published in the Anthology of Appalachian Writers Volume VII. Her short story, "To Have a Home," won third place, as chosen by Charles Frazier, in the West Virginia Fiction Contest in 2016. She lives with her husband and three dogs in Capon Bridge, W.Va.
"Every creative writer I work with desires an audience for their work. Nothing is as motivating as  the immediate feedback from an audience's reaction to your words."

~Rhonda Lancaster