This weekend workshop is a one day, multi-session writing event open to grades 4-12 that targets several different writing genres, opportunities, and more!
Considerable time will be provided for drafting and revising pieces. Students will leave with a down draft suitable for revising and submitting.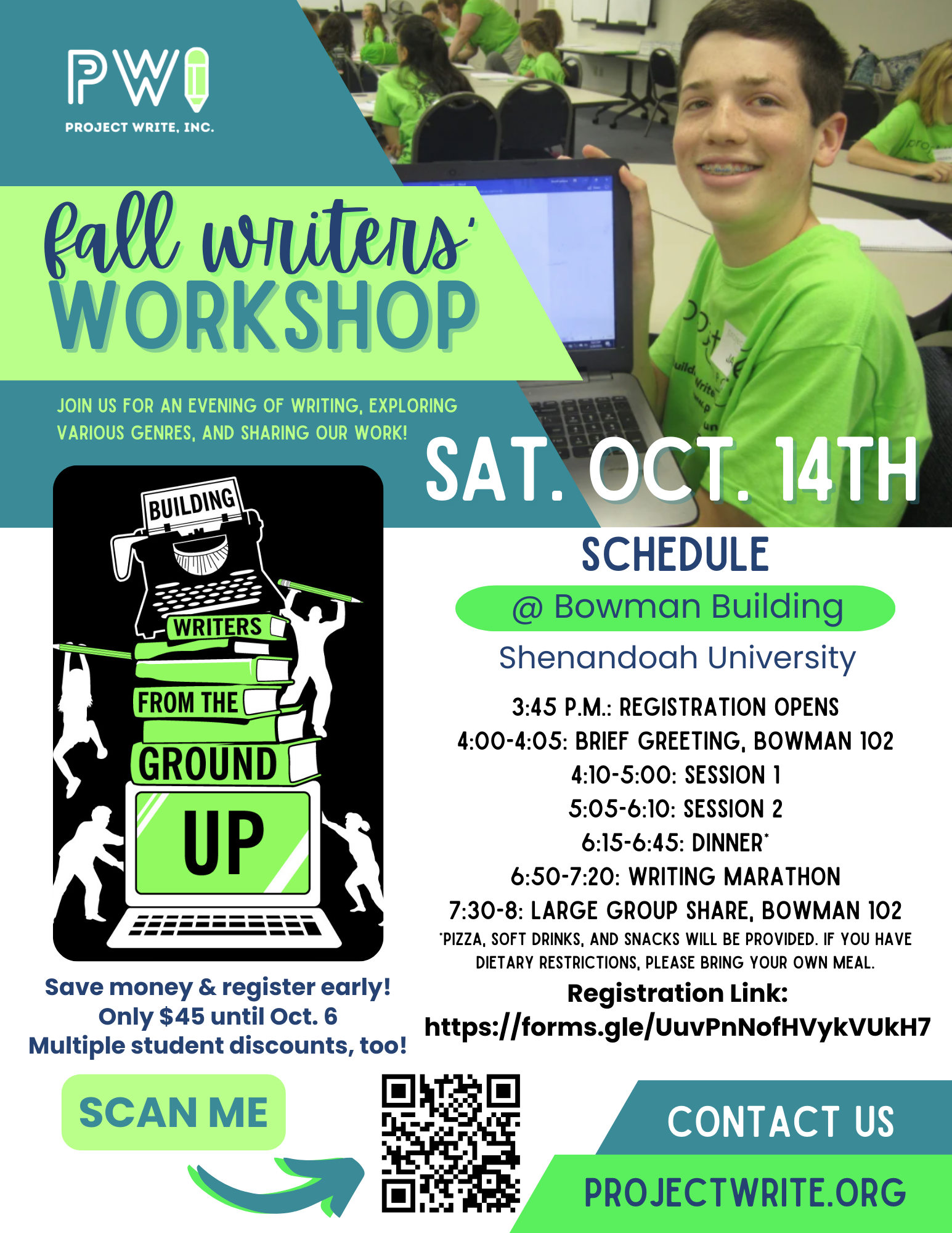 WHEN: Saturday, October 14, 4:00 PM – 8:00 PM
WHERE: Bowman Building at Shenandoah University. 
20 S. Cameron Street, Winchester, VA 22601
Students will get to choose two separate sessions to attend within the workshop that targets a certain genre or type or writing. Writers will be accompanied by one of our Teacher Consultants for a smooth creative process. 
Project Write will also be providing pizza, soft drinks, and snacks through Shenandoah University for all attendees. 
3:45 P.M.: Registration Opens
4:00-4:05 P.M.: Brief Greeting, Bowman 102
4:10-5:00 P.M.: Session 1
5:05-6:10 P.M.: Session 2
6:15-6:45 P.M.: Dinner
6:50-7:20 P.M.: Writing Marathon
7:30-8 P.M.: Large Group Share, Bowman 102
Registration through Friday, October 6 is $45. Refunds after this date are considered on a case-by-case basis.
Late registrations are accepted through Thursday, October 12, at $50. Registrations on Friday, October 13, or the day before the event, will be accommodated as possible for $55. 
Star Friend: Cemetery
Cemetery Walk and Writing with Star. Weather permitting, participants will take their notebooks to Mt. Hebron Cemetery to use the setting to inspire a spooky story. Dress accordingly. if it rains, we'll stay inside and write with candlelight and gothic music. 
Jessica Wheeler: Realistic Fiction/Gothic Fiction
Imagination Unleashed: Using Your Life to Write a Story Embark on a creative journey that will help you use your own life experiences to unleash your imagination and write your own piece of realistic fiction. Learn how to harness your own story and transform it into a work of fiction that everyone can relate to! We've all got a story to tell; let's find yours.
Gothic Quills and Eerie Tales: Gothic Writing Workshop Get ready for spooky season with this gothic writing workshop! Are you drawn to the enigmatic lure of crumbling castles, lonely landscapes, and haunted hearts? Do you want to explore the shadows of the human soul through your words? Then join us for a Gothic writing workshop! We await your darkened quill.
Moriah Creech: Rhyme
To Rhyme or Not to Rhyme-Either is Fine If you tend to bounce from one piece of writing to another, then poetry might be the perfect option for you! Poetry gives you the flexibility to write about multiple topics in a single session or to focus on a single topic. Who doesn't love flexibility? In session one we will work on how to rhyme in poems and in session two we let loose and rhyme if optional. In both sessions writers will create multiple poems.  
Janet Maxwell: Second Person POV and Third Person POV
The Power of You: Writing in 2nd Person POV (recommended for ages 12 and up) Learn when and how to effectively use the second person point of view. This session will play around with stereotypes and breaking stereotypes. Writers may create either prose or poetry.
Playing with Point of View: Writing in Person POV for All Ages Learn or review the three types of third person, including objective, limited, and omniscient. Then, enjoy one or more stations where writers use Play-Doh, cartoons, or a silent movie to inspire their writing.
Rhonda Lancaster: Ekphrastic Writing and Invective Writing
Ekphrastic Writing Participants will create a poem or story in response to a work of visual art. This is a great opportunity to get inspiration and to work on sensory descriptions.
Interactive Writing Telling off your enemies with panache. Have fun with this exercise in writing poetry that expresses your anger with style. 
Mary Tedrow: College & Scholarship Essay
College & Scholarship Essay Writing Workshop This session covers the demands of the college essay, what admissions counselors look for, and how to locate life experiences which reveal your true self. Considerable time will be provided for drafting and revising. Students will leave with a down draft suitable for revising and submitting.