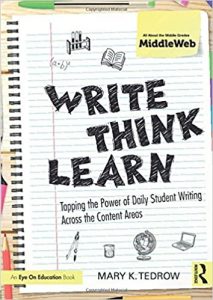 Write with Your Writer Session for Parents 12:30-2 p.m. (Complementary with young writer registration)
What role can the parent play in encouraging and supporting a young writer?  This session explains the writing process and how your child's writing fits into that framework.  Includes suggestions for responding to early drafts that will encourage a writer to continue the process.  Resources will be provided for publishing to a wider audience.
Dr. Mary Tedrow, Project Write Treasurer

Mary Tedrow's book, Write, Think, Learn: Tapping the Power of Daily Student Writing Across the Content Areas, is now available in bookstores and online. Tedrow was a founder of PWI and feels that "Project Write extends the work of the classroom into the community to help build confident, expressive writers from an early age."
Shenandoah Valley Writing Project Director Tedrow retired as the Porterfield Endowed English Chair at John Handley High School with over 25 years of classroom teaching experience in public schools in Virginia. She was the 2001 District Teacher of the Year for Frederick County. Tedrow served on the National Education Association Commission on Effective Teaching and Teachers in 2010 to reimagine the teaching profession. Tedrow also served as a Co-Director of the Northern Virginia Writing Project and taught at George Mason University from 1999-2014. She is currently a Lecturer in the Masters in Teaching Writing program at Johns Hopkins University.
Since 1982, Tedrow has also worked freelance in the private sector in advertising, radio, and various print media including authoring a national, monthly newsletter for parents. She has been published in numerous outlets including Teacher Magazine and Education Week.