Thank you for joining our #ProjectWritePerseveres online lessons and workshops!
Check out some writing by our young writers in The Bloom, our online anthology.
If you haven't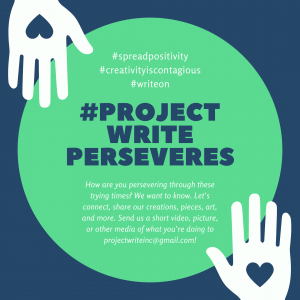 already, please subscribe to our YouTube channel. For April's National Poetry Month, our treasurer Mary Tedrow posted brief lessons to get you writing some poetry. We also have several series of lessons by Teacher Consultant Sarah Andino. Check them out: Project Write, Inc., is on YouTube!
Do you have something you'd like to share here? Please email it to projectwriteinc@gmail.com! We'd love to post you reading something you've written or your lesson ideas or your ideas for staying sane while social distancing! If you'd like to see us offer something specific, email us those ideas too!
Journalism & Family Stories with Star Friend (March 28, 2020)
We can't travel to visit family right now, but nothing is stopping us from picking up the phone or connecting with some FaceTime. Here are some suggested questions for interviews and ideas of what to do with the answers, whether you write a family history or use the ideas for fiction writing. Star offers additional suggestions to try during our enforced home stays.
Video on YouTube (8:51): https://www.youtube.com/watch?v=ejhXjXcxwUo&t=29s
Handout of Questions: Family Interview Questions 
Crime Fiction with Moriah (April 18, 2020)
This was supposed to be a new offering for the Fauquier High School Spring Workshop, instead Moriah assembled an online version for you to work through step-by-step. Have you always wanted to create a suspenseful crime story? Now's your chance! Check out her lesson and tips here!