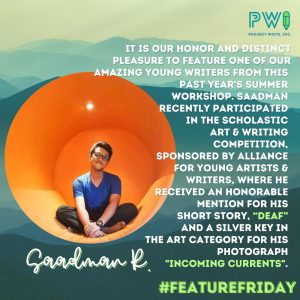 PWI: What inspires you when you write?
Saadman: I love that burst of creativity that seldom arises from writing. I feel like in those moments I am also a viewer who is eager to see the story that is being unfolded.
PWI: What are you currently working on?
Saadman: Currently, I am working on a poem about women and victim-blaming. In Bangladesh, the country of my origin, victim-blaming is very prominent and women are condemned for even going out at night. I am trying to show how that mentality actually entices predators to feel that they are the ones to be feared and have more power. Chris [a PWI TC] actually motivated me to write more poems when he said that I had the same writing style as his favorite poet (Walter Whitman)– which knowing how hard it is to impress Chris, is probably the best compliment one can ask for.
PWI: Can you describe the relationship you have with writing and photography and also how the two are connected for you?
Saadman: Writing lets me explore parts of me that are unknown to even me. I believe writing is the best way I can express my thoughts and ideologies to the world. Photography is my way of appreciating the world around me. Taking the effort to capture and expose the extraordinary in normalcy is why I press the shutter. Both allow of these activities include storytelling, with writing having to explore introspective stories and photography to see the stories in everyday life.
PWI: What's on your reading list right now? Any writers you're currently inspired by?
Saadman: I am currently reading "So you want to talk about race" by Ijeoma Oluo. Up next I have "Kafka on the Shore" by Haruki Murakami and "Into the Wild" by Jon Krakauer. After reading "The Elephant Vanishes" and "Men Without Women" by Haruki Murakami, I have been awestruck by the interesting characters in his short stories. Even though I had interacted with them briefly, they are still etched into my memory.
PWI: What's one piece of advice you'd give to younger writers or your peers?
Saadman: To always try to write each day. It can be gibberish or incomplete, but being consistent is important for every kind of artist. I try to follow the routine of the novelist Steven Pressfield in his book "The War of Art" where he tells us that he always sets out to write at least 20 words each day but ends up writing tens times more. Try to incorporate the same goal in your everyday life. (Ps I am currently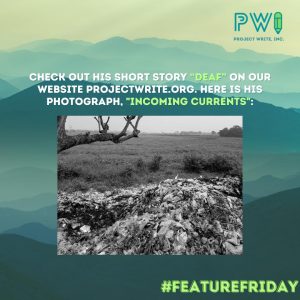 fulfilling that goal by writing these answers, so seriously write anything!).
PWI: How excited were you when you found out you won? Can you describe that for me?
Saadman: The feeling that I got after finding out that I had won an award was relief. I remember how intimidating it felt to apply to Scholastic Art and Writing Awards, knowing that renowned writers and artists were recognized by them. However, after reading my congratulations letter I felt glad that I was brave enough to believe in myself to apply and that my work was recognized.
PWI: Can you tell us the story behind your award-winning picture "Incoming Currents"?
Saadman: I had actually taken the photographs when I was visiting my village in Bangladesh. At the time, what struck me was how so much plastic and garbage was ruining the scenic view. I re-edited this for the competition as I believed that it's an accurate depiction of how the green earth will be ruined if we do not take responsibility for our environment.
PWI: Anything else you think our followers should know about Project Write?
Saadman: Project Write is a community where people constantly try to help each other grow. If it were not for Chris listening to my short story "Deaf" and giving pointers to better layout the setting, I probably would not have been able to win. If it were not for all the fellow young writers who participated in the summer workshop, I would not have learned what constructive criticism meant. As an artist, I believe the most you can ask for is honesty from your audience and Project Write not only provides that but also personally accompanies you on your mission to improve art.