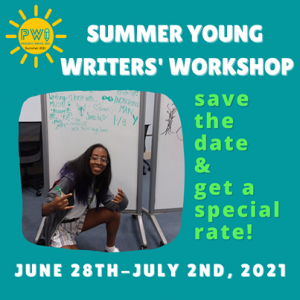 Join us online OR in-person* from June 28 to July 2* for a week-long Writing Workshop complete with guest appearances by authors and intense workshops taught by our Teacher Consultants!
We welcome students entering 4th through 7th and 8th through 12th grades in the Fall to register here for this exciting event that will be held from 9 am until 2 pm each day.*
*Please note that we are making plans for both in-person AND virtual options for the summer of 2021. We will be in-person unless the state issues lockdown orders preventing our workshop. We will follow all social distancing, masking, and sanitizing guidelines.
Registration includes admission to sessions with our guest authors, our writing TCs, and opportunities to write and revise work throughout the week. All participants may submit to the workshop anthology, which will either be transmitted as pdf file for participants to print or share with family and friends (if all the workshop is virtual) or the pdf and a printed copy (if the workshop is in-person). Participants will also receive a Project Write t-shirt.*
*See our website for details regarding two t-shirt competitions. We are giving away one paid week or half off! (No cash value.)
Each day includes a session with a professional author, genre sessions, writing workshops, and lots of opportunity for creative writing growth.  In addition, our young writers will have the opportunity to conference one-on-one with our Teacher Consultants for personal feedback and revision.
2021 Guest Authors
June Smalls: This children's book author is from Winchester, Va.! Known for She Leads: The Elephant Matriarch, Odd Animal ABC's, and This Cat Loves That!, Smalls has also written books for the educational market. She will be introducing young writers to the "Life of a Book" and helping them lock-up their inner editors so that they are ready to write like madmen this week.
Hobbes Holluck: Artist and author of Fuzzbucket!, an all-ages comic with offbeat, snarky humor
Patrick and Peyton McCarthy: This father-daughter duo will be teaching a songwriting session. Patrick is a founding member of Project Write, Inc. Peyton attended Project Write workshops. They are well-respected musicians, songwriters, and singers.
Andrew Joseph White: A current graduate student in creative writing at George Mason University. Andrew will be returning to Project Write, which he attended from fourth grade through high school. He will be sharing his journey to publication and leading participants through several writing exercises.
Further guest artists to be determined!
Please note that the authors' availability may change at any time and the names are not permanent.  We may add or remove authors at any point in time.
Registration –
$400 until June 15
Please contact us at projectwriteinc@gmail.com for sibling or family discounts.
Scholarships are available!  Students with financial need can apply at our website at http://www.projectwrite.org or email us at projectwriteinc@gmail.com for more information. Scholarship applications MUST be received NO LATER THAN April 20. Awards will be announced by May 15.
BY-THE-DAY SYWW
Unable to make the full week?  You can sign up for only the days that you are available to attend!  Just select your specific days at registration!
The cost of the By-the-Day Summer Young Writers' Workshop will be $100 per day.  This includes any presentations on the purchased days and the opportunity to submit to the anthology. By-the-Day registration is now open.
Completing Registration
Please complete this Google Form to register. You may send payment via Paypal to projectwriteinc@gmail.com or contact us for offline payment options.
Scholarships
We still have scholarship funds available for 2021. Please see the Scholarship page for more information and to apply.
Deadline
Registration is requested by May 31, 2021. Due to our planning of events relying on accurate numbers of participants, refunds are NOT available after June 15.
Any questions can be directed to our main office at projectwriteinc@gmail.com
We look forward to working with you!
Write On!
A huge thank you to the Claude Moore Charitable Foundation for providing funding for scholarships to students with financial need.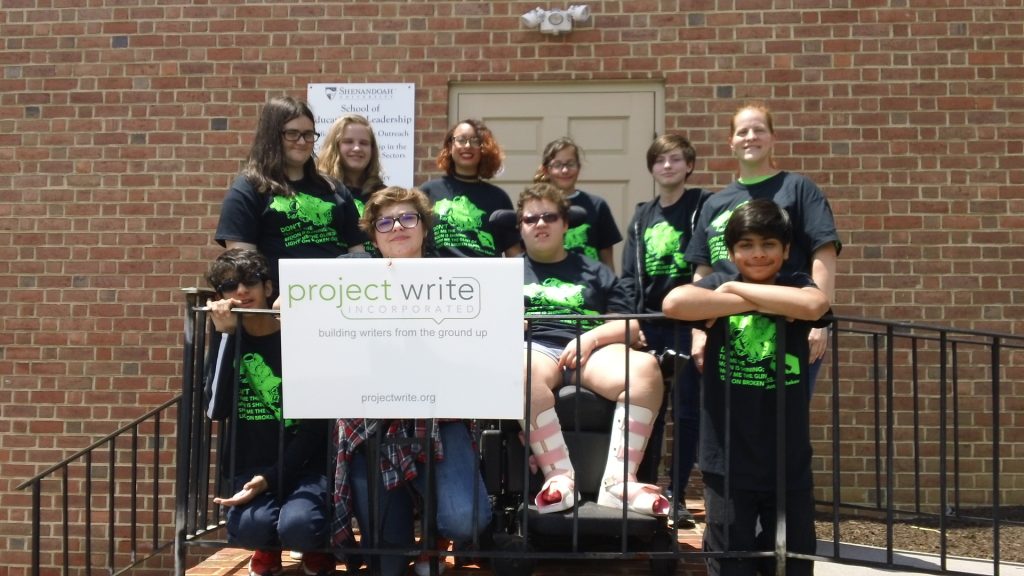 Other Workshops:
Second Saturdays Series from January to June 2021
Advanced Young Writers' Workshop from January to May 2021
College and Scholarship Application Essay Workshop, If you missed us in 2020, please email projectwriteinc@gmail.com to be placed on the email list for fall 2021!
Young Screenwriters' Conference, Shenandoah University, Winchester, October 2, 2021 (virtual or online)