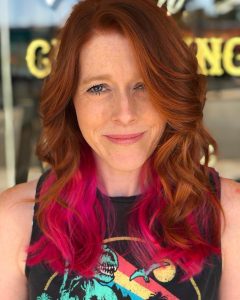 Rebekah McKendry is an award-winning director, writer, and podcaster with a strong focus in the horror genre. She most recently co-wrote the BRING IT ON horror reboot coming soon from Universal, as well as directing an upcoming Lovecraftian film for AMP. 
Rebekah began her film career producing heavy metal music videos for Nuclear Blast and Metal Blade and went on to direct many award-winning shorts films and multiple horror features. She has a doctorate focused in Media Studies focused on the Horror Genre, a MA in Film Studies, and a second MA in Performing Arts Education. 
Rebekah previously worked as the Executive Editor-in-Chief at Blumhouse Productions and as the Director of Marketing for Fangoria Entertainment. She is a co-host of Blumhouse's award-winning Shock Waves Podcast and co-host of Fangoria's Colors of the Dark Podcast. She is also a faculty member at the University of Southern California's School of Cinematic Arts specializing in the Horror Genre and Directing.
1:00-3:00 p.m. Keynote:
Finding Your Niche with Rebekah McKendry
There are many avenues into the industry. McKendry will start with her own journey from Virginia to Los Angeles and seeing her work on television, social media, and the big screen. She'll also teach students how to craft their own interests into a cinematic tale by leading them through a writing activity taking a "fear" and crafting it into a scene.
Bonus: 6:15 p.m. REBEKAH and DAVID IAN MCKENDRY shorts & discussion
Alamo Drafhouse & Cinema-Winchester
Don't miss this opportunity! Award-winning filmmaking team Rebekah and David Ian McKendry will show shorts and clips from their career, and discuss their journey and development as filmmakers. Rebekah is a nationally-recognized professor, filmmaker, podcaster and author. This one-hour presentation is the perfect way to wrap your weekend on an inspiring note as you plan your future in filmmaking!
Return to Young Screenwriters' Conference Page