Project Write is sorry to announce that expected funding fell through for the Young Screenwriters' Conference. This funding was keeping registration costs affordable for our young writers. We apologize for any inconvenience. (We're disappointed too!)
We hope to reschedule this conference at a future date!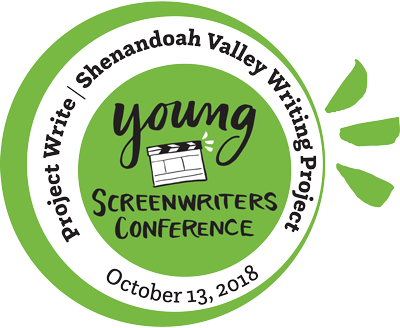 The conference for high school students and their teachers CANCELLED.  
Why Screenwriting?
Video is everywhere.  

Media literacy is a must.  

You love the genre and want to create it!  
Project Write, the Shenandoah Valley Writing Project, and Alamo Drafthouse Cinema are teaming up to bring a day of workshops to the area. Established filmmakers and screenwriters will be a part of the instruction.
Look forward to:
Learning how to pitch a film

A day of hands on learning for developing a script with fully formed characters, punchy dialogue, correct script formatting, and more.

A community of interested students and teachers

Lunch on campus at Shenandoah University

All at an affordable price
Pass this information along to your English, creative writing, drama, or film production teacher and have them contact us for some free lesson plans! (Trust us, teachers love free lesson plans!)
For more updates as the day draws near, bookmark this page at Project Write, Inc.: http://projectwrite.org
or email projectwriteinc@gmail.com and ask to be added to our Young Screenwriters Conference mailing list.