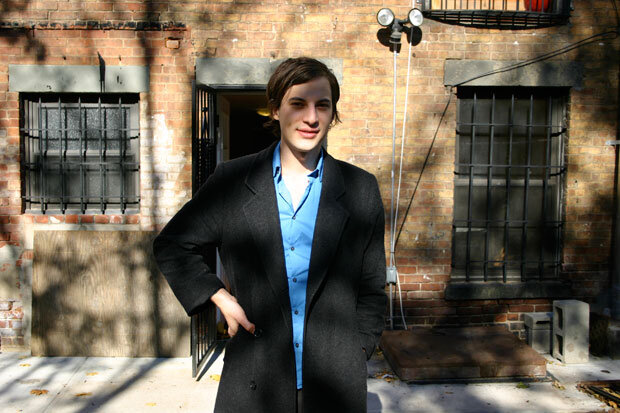 Project Write, the Shenandoah Valley Writing Project, SU's Department of Media and Communication, and Alamo Drafthouse Cinema are teaming up to bring a day of screenwriting and production workshops to the area for the second year! Comic creator, screenwriter, and animation director Dash Shaw will be the keynote speaker on Saturday, October 17, 2020.
The inaugural keynote speaker was comic creator and screenwriter Joe Kelly, known for BEN 10, I KILL GIANTS, and his contributions to reinvigorating the Deadpool comics.
Other established filmmakers and screenwriters will be part of the instruction, including Shenandoah University faculty Kelley Crowley, Paul DiFranco, and Blayne Weaver.
Thanks to a grant from the Marion Park Lewis Foundation for Arts and additional funding from the Nora Roberts Foundation, we are able to offer this conference for an especially low price.
The conference for high school students and their teachers will be held virtually on Saturday, October 17, 2020, from 9 am until 3 pm. (with appropriate screen breaks and lunch on your own).
Why Screenwriting?
Video is everywhere.
Media literacy is a must.
What better way to understand the genre than by immersing in the writing and production?
Project-based learning lends itself to film production.
Many schools are adding film programs and the conference is designed to complement them.
Sample Schedule
9-11 a.m. Keynote Speaker: Dash Shaw will share his experience in the industry and will lead students through a creative lesson he uses in his craft
11 a.m.-12 p.m. Lunch (on your own)
12-3:00 p.m. Three Breakout Sessions TBA (tentative: Jumpstart your Creativity, So, you want to be a filmmaker?, Director's Tip, and Virtual Reality):
Jumpstart Your Creativity with Dr. Kelley Crowley: Jumpstarting your creative process – Bring your script or just a half-baked idea to this session. We will explore tools and tricks to help you keep going with your idea when you hit the wall. If you know you want to write a movie and just don't know where to begin, this session will give you a jumpstart to that scrip you've always wanted to write.
REGISTRATION COST is $35 for students OR advisers. Advisers can attend for FREE with six paid student registrants. The Registration Deadline is EXTENDED through Friday, October 16. Due to our planning of events relying on accurate numbers of participants, refunds are NOT available after the registration deadline. In emergency situations, we will consider a partial refund on a case-by-case basis. We will allow LATE registrations for $45. We will not be charging a late registration fee this year, but please register as soon as possible!
Ready to register? Click here!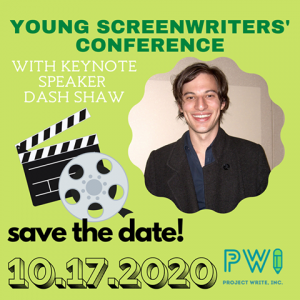 Registration instructions: When registering, please be sure to enter the attendee's name on the ticket (this is the first window you will see once you click on the "Book Now" button). It is possible to register more than one student at a time on the site by simply clicking "Add Ticket" in this same window!
For more updates as the day draws near, bookmark this page at Project Write, Inc.. follow us online @ProjectWrite on Facebook, Twitter, and Instagram, or email our main office and ask to be added to our Young Screenwriters' Conference mailing list.
Any questions can be directed to our main office at projectwriteinc@gmail.com
We look forward to working with you!
Write On!
Other costs:
We are no longer allowing ticket reservations through us for the showing of Dash Shaw's My Entire High School Sinking into the Sea at* Alamo Drafthouse-Winchester, but encourage participants to purchase the $5 tickets directly through the theater: Buy tickets here!
Please note that you must attend the showing in-person and follow the mask & social distancing policies for Alamo Drafthouse.
*Disclaimer: Please note that My Entire High School Sinking into the Sea is rated PG-13 with the warning "some images of peril, sexual references, and drug material." This description applies to his comic books as well. We believe the material is appropriate for students in the target audience for this conference AND that it will appeal to them, but parental guidance is suggested. For additional information, please email Rhonda Lancaster at projectwriteinc@gmail.com. If you want to preorder any of Dash Shaw's books, we encourage you to shop local, including at Four Color Fantasies. Contact them via phone at (540) 662-7377, email, or visit their store at 80 Weems Lane, Winchester, Va. Shaw will sign books after the Q&A at the Alamo.
Other Workshops:
Second Saturdays Series from August to December 2020
Advanced Young Writers' Workshop from September to December It's not too late to join one of these groups!
College and Scholarship Application Essay Workshop, September 19 Did you miss it? Let us know you'd be interested in the next one!
Summer 2021, June 21-25, Shenandoah University Winchester, Va. (virtual or online)