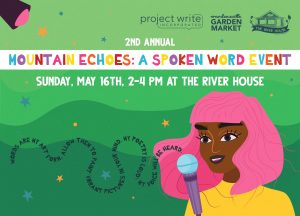 REGISTRATION DEADLINE APPROACHING FOR MOUNTAIN ECHOES: A SPOKEN WORD EVENT!
Open to spoken word artists in grades 8-12! Join us at The River House in Capon Bridge, WV, on May 16! Better yet, become a competitor. Workshops begin Tuesday, May 4, but competitors may register through May 13! To register, click here! For more information, click here!
Only two sessions remain in the Spring Second Saturday Series so be sure to register today. Workshop topics include poetry, reimagining fairy tales, writing for comics, and writing about food. If you want to purchase the remaining TWO workshops, register by May 7! Workshops can also be purchased individually.
Summer Young Writers' Workshop
Thinking about summer already? We're holding our annual summer workshop June 28-July 2. We are planning both in-person and all-virtual options. This weeklong program allows writers to develop one or more works from inception to polished for publication while learning from published authors and our talented teacher-writers alongside other young writers. Registration is limited to 30 participants so take time to register your young writer today. Scholarships are available for students with financial need. The scholarship deadline is past, but we still have some funds to distribute!
Did you miss our #featurefriday interviews with two of our talented young writers? Follow us on Social Media: Facebook, Instagram, and Twitter @Project Write!
Sponsored by grants through: