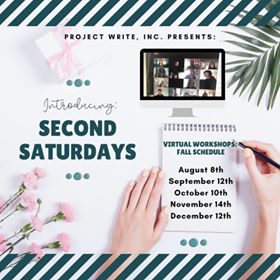 Our Summer Young Writers' Workshop was awesome followed by Mountain Echoes: A Spoken Word Contest and Minecraft for Education Writers' Workshop. Now, we're happy to announce our end-of-summer into fall line-up!
Second Saturday Series
Join us for one or all five of these writing workshops featuring historical fiction, dream journaling, horror, memoir, and point-of-view! Register now for August 8!
Advanced Young Writers' Workshop 
Young writers who are serious about developing their writing are invited to our Advanced Young Writers' Workshop held two Tuesdays a month starting in September. Click here for more information and to register!
College and Scholarship Application Essay Workshop 
Are you working on college applications? Why not attend our College and Scholarship Application Essay Workshop to learn how to impress the selection committee and start your first draft? Register today for September 19!
Project Write on YouTube
Please subscribe to our YouTube Channel!
Social Media
Subscribe to our #ProjectWritePerseveres hashtag on social media! And, if you aren't already, follow us on Facebook, Instagram, and Twitter @Project Write!
Featuring YOU: The Bloom
What are you creating right now? How are you making the most of the crisis? How can we help you during this time? Send us your latest poems, pieces, short stories, speeches, etc. We will shout you out on FB, Insta, and Twitter, and archive your works on our site.
Most of us don't know what our school year will look like, but Project Write will keep on writing! Join us!
#writeon friends! #projectwriteperseveres #spreadpositivity #wereallinthistogether
Sponsored by grants through: