Young Screenwriters' Conference is right around the corner! Saturday, October 2, 9 a.m.-3 p.m.!
We're excited to welcome filmmaker Rebekah McKendry as our keynote speaker for the Young Screenwriters' Conference. Click here for more information! Register today! Check out the interview between one of our Project Write creators and McKendry!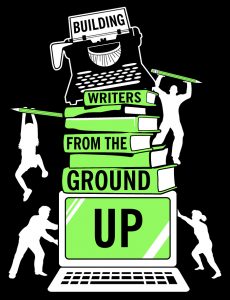 Second Saturday Series with Libbie Albright, Author of Tales from Evergreen Hollow and The Last Transwalker, coming up on October 9!
Registration is open for the Second Saturday Series! We think you'll be delighted by the mix of genres offered by our Teacher Consultants and published authors! Click here to register today.
If you're interested in either of these and want to be sure to receive any updates, please send your request to projectwriteinc@gmail.com to be added to our email list.
Thank you for making our 2021 Summer Young Writers' Workshop a success!
We enjoyed visits from guest authors June Smalls & Hobbes Holluck. It was also a summer of alumni visits with debut author Andrew Joseph White, songwriters and former founding member of Project Write Pat McCarthy and participant Peyton McCarthy along with alums who taught writing lessons or led workshops.
Did you miss the article on White in The Winchester Star? Read it here.
Did you miss our #featurefriday interviews with two of our talented young writers? Follow us on Social Media: Facebook, Instagram, and Twitter @Project Write!
Sponsored by grants through: