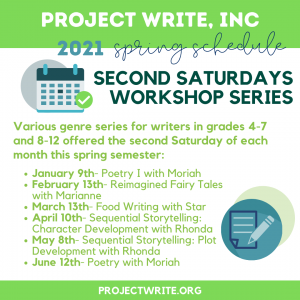 Thank you for making our fall season a success, including Young Screenwriters' Conference with Dash Shaw and Shenandoah University and our Young Writers' Workshops!
We're now registering for the Spring Second Saturday Series. Workshop topics include poetry, reimagining fairy tales, writing for comics, and writing about food. If you want to purchase the FIVE workshop package, register by February 12! Workshops can also be purchased individually.
Advanced Young Writers' Workshop 
Writers with an eye to publication can now register for spring Advanced Young Writers' Workshop. This set of workshops is designed for small groups of writers (between 5-7 per group) to meet twice a month to receive feedback on works-in-progress. If your young writer is serious about practicing the craft, join us now! Workshops are now underway, but it isn't too late to sign up!
Summer Young Writers' Workshop
Thinking about summer already? We're holding our annual summer workshop online June 28-July 2. This weeklong program allows writers to develop one or more works from inception to polished for publication while learning from published authors and our talented teacher-writers alongside other young writers. Registration discounted to $350 until March 30. Scholarships are available for students with financial need.
College and Scholarship Application Essay Workshop 
Held on September 19, this workshop got attendees started on quality essays for the application season. If you missed it, but would like to be part of the next one, please email us!
Project Write on YouTube
Please subscribe to our YouTube Channel!
Social Media
Subscribe to our #ProjectWritePerseveres hashtag on social media! And, if you aren't already, follow us on Facebook, Instagram, and Twitter @Project Write!
Featuring YOU: The Bloom
What are you creating right now? Send us your latest poems, pieces, short stories, speeches, etc. We will shout you out on FB, Insta, and Twitter, and archive your works on our site.
Our school year isn't "normal," but Project Write will keep on writing! Join us!
#writeon friends! #projectwriteperseveres #spreadpositivity #wereallinthistogether
Sponsored by grants through: