Diane Tarantini, the author of The Brave Knight, led a workshop at the non-profit Project Write. Project Write has a week-long summer workshop where guest speakers come and speak to young writers. Tarantini read her book aloud and talked about the process in which she wrote the book. Tarantini has a very energetic personality; this made it easy for her to keep the kids engaged during her lesson. She read the book with lots of enthusiasm and even acted out a character's death by falling to the floor and waving her legs dramatically in the air. It caused the group to burst out with laughter. Even while lecturing on the book's formation. Tarantini continued to be lively and captivating. "I loved her energy. She was amazing. She kept me pumped up for the whole day," said Jane, a rising junior from Loudoun Valley High who attended the workshop for the first time.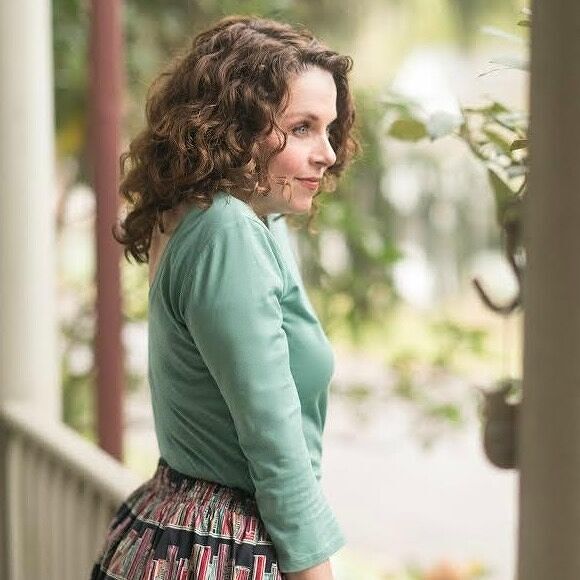 Writing about topics society views as dark and scary can always be a struggle. Tarantini would know all about this. While Tarantini was at Project Write, she taught young writers about the importance of writing about such a topic. She said the purpose behind writing The Brave Knight was so that when someone read it they would recognize one of two things. Either they would relate and think, "I'm going/went through this," or "What that dragon is doing is not okay."
She admitted writing about darker issues can be difficult, especially when your target audience is children. It can be hard to make sure your book isn't too dark or too scary, but also make it to where they can still understand what is happening. Tarantini also believes when writing about traumatic events you have gone through, "it is important to do the work of healing from your hurt(s) before you start communicating in public spaces (ie. on the page or the stage)."
She also feels that if you tear up or become filled with rage when you think of the topic you are writing on, then it is too soon for you to be writing about it. A piece of advice she gave on how to write about abuse is to not go into too many details. "The human mind is really good about filling in the specifics of a sentence like, 'I experienced sexual abuse at the hands of an older kid in my neighborhood throughout my sixth year of life.' People don't need a play-by-play. They don't need the body parts named. Their mind will figure out a narrative on their own. Not only that, if you do give a play-by-play, plus all the body parts and abusive actions, you run the risk of 'triggering' other survivors of abuse and assault."
Project Write is not the only non-profit organization Tarantini has partnered with through her book. The idea for the book came from a non-profit organization called Shield Task Force. A man named Robert Peters, who is the founder and former Executive Director of Shield, approached her and asked her if she could write this book. Tarantini admitted she was intimidated. "I didn't feel equipped to do it," she says, "In a non-scary way and including all the components that we discussed in the creative brainstorming session."
They had their brainstorming session the same day he approached her with the idea of the book. During the brainstorming session, she had no idea how she wanted to go about writing this book but knew she had to do it. Although, four days later she woke up with the entire plot planned out from beginning to end. That same day she wrote about ninety percent of the book.
Tarantini's book is about a young girl being sexually assaulted by her cousin who is represented by a dragon. One day a knight, who represents a safe adult, shows up, and the young girl hears about all the bad people the knight has taken down. It encourages the girl to go seek help from the knight. He teaches her that to be able to stop the bad people she must use her words. It's the only way the bad people will be stopped. Tarantini said, "If the first person you tell doesn't help you. Then tell somebody else, and tell somebody else, and tell somebody else. You just have to find the right person. I think just the act of seeking out help can feel more empowering than doing nothing at all."
When parents hear about a book that covers the topic of sexual assault, it is only normal to have doubts about whether it would be appropriate for their children. Her own illustrator had her doubts about the book when she first heard of it, but once she read the manuscript, she was immediately on board. Tarantini wrote this book in a child-friendly manner; if you didn't know this book was about sexual assault, you might not even pick up on it. Tarantini's daughter, an elementary school teacher, was a huge reason the book is so child-friendly. Her daughter was able to help her make sure the book would be appropriate for little kids. And they did just that.
Tarantini's one last piece of advice for anyone who is or has been sexually assaulted. "You are not alone. No matter what you think, it is absolutely going on out there more than most of us would like to think. And your words are your way out of it, and if the first person doesn't give you help. Move on to the next person; some people don't want to deal with this, but some people will absolutely passionately defend you and help it stop. Speak up. If you stay silent, the bad guys win. "
If you'd like to hear more about Diane Tarantini. You can check out her blog https://www.dianetarantini.com/diane/. If you want to purchase The Brave Knight, it is available from the author or on Amazon.